St. Leopold Mandic, Saints Nereus and Achilleus, Martyrs; Saint Pancras, Martyr
Saint Leopold Bogdan Mandi? was born on May 12, 1866 and died on June 30, 1942. He was an ethnic Croat born in Herceg Novi, in Boka Kotorska (modern-day Montenegro), and died in Padua, Italy. Physically malformed and delicate, having a height of only 1.35m, with clumsy walk and stuttering, he developed tremendous spiritual strength. His feast is celebrated May 12.
Although he wanted to be a missionary in Eastern Europe, he spent almost all of his adult life in Italy, and lived in Padua from 1906 until the end of his life. He spent also one year in Italian prison during WWI, since he did not want to renounce his Croatian nationality. He also dreamed unceasingly about reuniting the Catholic and Orthodox churches and going to the Orient. He became known as Apostle of Confession and Apostle of Unity. He made a famous prayer that is the forerunner of today's Ecumenism.
Bogdan Mandi? was the twelfth child of Dragica Carevi? and Petar Antun Mandi?, owner of an Adriatic fishing fleet; they came from village of Zaku?ac (hinterland of city of Omiš, 28 km from Split). The origins of his family are noble; they came from Vrhbosna province in Bosnia.
He suffered from disabilities that would plague his speech and stature. The family eventually lost most of its wealth, and became more sympathetic to those who suffered in similar situations. In November of 1882 while he was 16, Bogdan went to Udine to enter the seminary of the Venetian Capuchins, and accepted the name "Leopold". Two years later he was put in the Bassano del Grappa friary, where he took the name Leopold. His first profession of vows were made a year later in May and a profession of perpetual vows 4 years latter in 1888.
In the mid-1880s, Croatian Bishop Josip Juraj Strossmayer began a movement which focused on unity and consecration of the cathedral of ?akovo and Srijem, a movement in which Leopold took interest in. On September 20, 1890, Leopold was ordained to the presbyterate at Venice at the age of 24.
Refusing to renounce his Croatian nationality during World War I, Leopold was forced to go to southern Italy. All this time Leopold held a hope that he would be able to return to his homeland and preach among his people, a feat that would be inhibited by his disabilities. On top of his physical deformities, he also suffered from stomach ailments, poor eyesight, and arthritis. Unsurprisingly, the Capuchin ministers declined these attempts due to his health.
While in Italy, Leopold's main vocation was confessions, which he did for 34 years. The Capuchin brothers often criticized Leopold for his approach to confession, calling him too lenient and compassionate. Leopold's compassion showed that he was more understanding and sympathetic to the people that came to him, and would treat them with great sensitivity. He was an outspoken on issues with children, and being pro-life and especially fond of expectant mothers and young children. He did great work in setting up orphanages for children without parents.
Leopold also had a deep devotion to the Virgin Mary who he referred to as "my holy boss". He was known to pray the rosary quite often, and celebrated the eucharist daily at the side altar in the Little Office of the Virgin Mary. He would then visit the sick in nursing homes, hospitals and homes all over Padua. He visited the Capuchin infirmary to comfort the sick friars, giving them words of advice and reminding them to have faith.
Leopold suffererd from esophagus cancer, which would ultimately lead to his death at age 76. On July 30, 1942, while preparing for the liturgy, he collapsed on the floor. He was then brought to his cell, where he was given the last rites. Friars that had gathered at his bed sang "Salve Regina," and when they got to the words, "O clement, O loving, O sweet Virgin Mary," Leopold died.
During the bombing of World War II the church and part of the friary where Leopold lived were demolished, but Leopold's cell and confessional were left unharmed. Leopold had predicted this before his death, saying, "The church and the friary will be hit by the bombs, but not this little cell. Here God exercised so much mercy for people, it must remain as a monument to God's goodness." Paul VI beatified Leopold on May 2, 1976. He was canonized by John Paul II during the Synod of Bishops on October 16, 1983. Leopold is hailed as the "Apostle of Unity."
---
Saints of the Day — Sts. Nereus & Ahilleus, Martyrs
Also St. Pancras
---
---
Information: St. PancrasFeast Day: May 12
Born: ~289 AD, Synnada, Phrygia
Died: ~304 AD, Via Aurelia, Rome
Major Shrine: San Pancrazio, Rome
Patron of: children; invoked against cramp, false witness, headache, and perjury
---
St. Nereus, St. Achilleus and St. Pancras
Feast Day: May 12
Died: (around) 304
Nereus and Achilleus were Roman soldiers who worked under Emperor Trajan. In 398, Pope Siricius built a church in their honor in Rome. Pope Damasus wrote a brief tribute to the martyrs.
He explained that Nereus and Achilleus were converted to the Christian faith. They gave up their jobs in the army and left behind their weapons forever. They were true followers of Jesus even at the cost of their own lives.
Around the year 304, Nereus and Achilleus were exiled (sent away) from Rome to the island of Terracina where they were beheaded. These martyrs willingly died for their faith in Jesus.
St. Pancras, a fourteen-year-old orphan, who was not a native of Rome. He was brought there by his uncle who looked after him. He too was converted, became a follower of Jesus and was baptized.
Although just a boy, he was arrested for being a Christian. Pancras refused to give up his faith. For that, he too was killed. Pancras was beheaded but his death which he faced so bravely, won him the admiration of many. Many non-Christians converted and became Catholics.
He became a very popular martyr in the early Church. In 514, a large church was built in Rome to honor him. In 596, the famous missionary, St. Augustine of Canterbury, went to bring the Christian faith to England. He named his first church there after St. Pancras.
Reflection: With the help of the prayers of these three saints, may we understand what it means to be members of the Church of Christ.
---
Easter: May 12th
Optional Memorial of Sts. Nereus and Achilleus, martyrs; Optional Memorial of St. Pancras, martyr
» Enjoy our Liturgical Seasons series of e-books!
Old Calendar: Saints Nereus, Achilleus, martyrs, Domitilla, virgin; St. Pancras, martyr (Hist); Bl. Imelda Lambertini, virgin and relgious (Hist)
Nereus and Achilleus were Roman soldiers in the household of Flavia Domitilla. They were instructed and converted by St. Peter. These two soldiers in turn inspired St. Domitilla to consecrate her virginity to God. Thereupon, Aurelianus, the fiancee of Domitilla, reported all three to the Roman authorities as being Christians. They were martyred out of hatred for Christianity. Pancras, a noble Phrygian youth, came to Rome at the age of fourteen, and was martyred in 275 because he refused to offer sacrifices to the pagan gods.
According to the 1962 Missal of St. John XXIII the Extraordinary Form of the Roman Rite, today is also the feast of St. Domitilla. Historically today is the feast of Bl. Imelda Lambertini, daughter of Count Egano Lambertini of Bologna and Castora Galuzzi. She was a student at Dominican Convent of Valdi-Pietra in Bologna and had a great devotion to Saint Agnes of Rome, of whom she may have had visions. On 12 May 1333 she miraculously received her First Communion, and immediately after died in an ecstasy of love and joy.
---
St. Nereus, Achilleus and Domitilla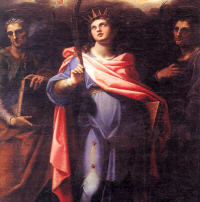 It was under the persecution of Domitian, during which John the Evangelist was condemned to be burned alive in the cauldron of boiling oil, that Flavia Domitilla was honored with banishment and death for the sake of our Redeemer, whom she had chosen for her Spouse. She was of the imperial family, being a niece of Flavius Clemens, who adorned the consular dignity by martyrdom. She was one of the Christians belonging to the court of the Emperor Domitian, who show us how rapidly the religion of the poor and humble made its way to the highest classes of Roman life. A few years previous to this, St Paul sent to the Christians of Philippi the greetings of the Christians of Nero's palace. There is still extant, not far from Rome, on the Ardeatine Way, the magnificent subterranean cemetery which Flavia Domitilla ordered to be dug on her praedium, and in which were buried the two martyrs, Nereus and Achilleus, whom the Church honors today together with the noble virgin who owes her crown to them. Nereus and Achilleus were in Domitilla's service. Hearing them one day speaking of the merit of virginity, she there and then bade farewell to all worldly pleasures, and aspired to the honor of being the Spouse of Christ. She received the veil of consecrated virgins from the hands of Pope St Clement: Nereus and Achilleus had been baptized by St Peter himself.
The bodies of these three Saints reposed, for several centuries, in the Basilica, called the Fasciola, on the Appian Way; and we have a Homily which St Gregory the Great preached in this Church on their feast. The holy Pontiff dwelt on the vanity of the earth's goods; he encouraged his audience to despise them by the example of the three martyrs whose relics lay under the very altar around which they were that day assembled. "These Saints," said he, "before whose tomb we are now standing, trampled with contempt of soul on the world and its flowers. Life was then long, health was uninterrupted, riches were abundant, parents were blessed with many children; and yet, though the world was so flourishing in itself, it had long been a withered thing in their hearts."
— Excerpted from The Liturgical Year, Abbot Gueranger O.S.B.
Symbols: Two posts and lions; fire; two swords.
Things to Do:
Even though Nereus and Achilleus died for Christ about 1800 years ago, Christians are still suffering and dying for their faith in this century. Offer a prayer for the persecuted Church and for the modern martyrs.
These two Roman soldiers threw away their "shields, their armour, and their blood-stained javelins" and gave their lives for Christ. Examine how much you are willing to sacrifice for the love of Christ and offer up a small sacrifice today.
---
St. Pancras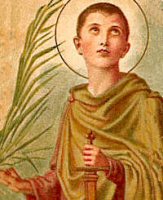 Pancratius was the descendant of a noble Phrygian family. As a youth of fourteen, he came to Rome while Diocletian and Maximian were in power (about 304). He was baptized by the Pope and given instructions in the Christian religion. Arrested for his action, he steadfastly refused to sacrifice to the pagan gods and was condemned to death. With manly courage, he bared his neck for the sword and received the martyr's crown. During the night his body was removed by the pious matron Octavilla, anointed with sweet smelling balsam and interred on the Via Aurelia.
Pancratius is the patron saint of fidelity to oaths. The basilica that Pope Symmachus erected over his remains about the year 500 later became a station church (since 1798 his relics have been lost). On the first Sunday after Easter the saint exhorted the catechumens gathered at his station church to remain loyal to their baptismal vows. The saint warns us to proceed slowly and prudently before taking an oath or vow. But once our word is given we must remain true to our pledge, true unto death itself, whether it concerns baptismal vows, ordination vows, profession vows, or marriage vows.
— Excerpted from The Church's Year of Grace, Pius Parsch.
Symbols: Sword and stone; armour; Saracen crown under his feet.
Patron: Against false witness; against perjury; children; cramps; headaches; fidelity to oaths; treaties.
Things to Do:
Make sure that you have at least one crucifix in your home as a reminder of the great mystery of salvation.
Renew your baptismal and vocational vows today, recalling their importance and grace in your life.
---
Bl. Imelda Lambertini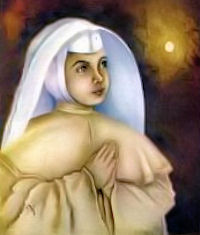 Bl. Imelda Lambertini is a model for all in her great love for the Blessed Sacrament. Born in Bologna, she was a pious child who begged her parents to allow her to become a Dominican when she was just nine. Her parents, though saddened at having to be separated from their only child, recognized God's will for their daughter, and Imelda joined the nuns at Val di Pietra. Her status among the nuns is unclear. She received the habit and participated in the life of the nuns to some extent. At that time, children were not allowed to make their First Holy Communion until age 14, but Imelda prayed continually that she would be able to receive Our Lord without having to wait so long. When she was 11, after Mass on the vigil of the Feast of the Ascension, the Sacred Host was seen suspended amidst a brilliant light above Imelda's head. The chaplain, who was immediately summoned, gave the Host to Imelda. Afterwords, the nuns left her alone to make her thanksgiving. The prioress soon discovered, however, that Imelda, who had been in ecstasy, had died shortly after receiving her First Holy Communion, so much in love was she with Our Lord in the Eucharist. Blessed Imelda was declared Patroness of First Communicants by Pope St. Pius X.
Patron: First Communicants
Things to Do:
---
To: All
Meditation: John 16:23-28
Saints Nereus and Achilleus, Martyrs (Optional Memorial)
Whatever you ask the Father in my name he will give you. (John 16:23)
What does it mean to ask the Father in Jesus' name when we pray? According to Jewish tradition, a person's name was not just the word you would use to get their attention. To speak in a person's name was to speak in his or her place, as an ambassador would speak for the president. It was as if that person were right there with you, lending his authority to your words. So when Jesus invites us to pray in his own name, he is giving us a high privilege indeed!
An ambassador can speak in his president's name because he knows his president very well. He knows what is on the president's heart and how his president would respond to a given situation.
This is the kind of relationship Jesus wants you to have with him. He wants you to come to know him deeply and intimately. He wants to teach you to love the things he loves, to see the world through his eyes of mercy, and to treat each other with the same tenderness he treats you.
In fact, instead of thinking in terms of an ambassador, perhaps we should think in terms of a husband and wife or a very close brother and sister. Think about how a husband and wife anticipate each other's needs and desires. Or think about how two brothers might finish each other's sentences.
Of course, this doesn't happen immediately. It takes time, just as it takes time for our relationship with the Lord to deepen. We can't expect ourselves to know everything about Jesus right away, so we certainly can't expect to get it right every time we try to pray for someone. But that doesn't mean we shouldn't try.
Day after day, as you offer your loved ones to the Lord in prayer, try your best to pray for them as you think Jesus would. Over time, something marvelous will happen: Jesus will draw closer to you and help you understand him more deeply. And that will affect the way you will pray tomorrow. And so on, and so on, and so on.
What a privilege it is to pray in the power of the name of Jesus!
"Jesus, I pray for my loved ones in your name today. Take us all into your heart, and shape us according to your will."
Acts 18:23-28
Psalm 47:2-3, 8-10
---