St. Agnes, Virgin and Martyr
Event Navigation
Saint Agnes, Virgin & Martyr
Saint Agnes, Virgin & Martyr

Memorial
January 21st
Saint Agnes
Ambrogio Borgognone – 1495 – Detached Fresco
Pinacoteca di Brera, Milan
History
Agnes, the daughter of a noble Roman family who had become a Christian, was martyred at the age of twelve or thirteen during a persecution of Christians when she openly declared her belief. Her name is in the Roman Canon, and in the earliest Church calendar (354 AD), her feast was assigned to January 21, on which all accounts of her death agree. Agnes was martyred in 304, in the persecution of Diocletian, or possibly earlier, in a third century persecution. According to very early accounts, her enraged persecuters attempted to burn Agnes, and when this failed, they decapitated her.
Testimony to her courageous witness was given in early accounts. An account of her martyrdom was written by Saint Ambrose (340-387) in "De Virginibus", and Pope Damasus (ca. 304-384) extolled the heroism and virtue of the young girl, reportedly telling in a poem how she bravely faced fire, concerned only that her stripped body be covered by her long hair. The Pope also wrote an inscription to her on a marble slab, which can still be seen at the foot of the stairs leading to the sepulchre in the church built over her grave during the reign of Constantine (ca 275-337). According to the description of her martyrdom by Prudentius (348-413), as part of the persecution "the judge threatened to give over her virginity to a house of prostitution, and even executed this threat; but when a young man turned a lascivious look upon the virgin, he fell to the ground stricken with blindness…".
The church built over her tomb in the 4th Century, Sant'Agnese fuori le Mura ("Saint Agnes outside the walls), stands today — on the Via Nomentana — much the same as it was after it was remodeled by Pope Honorius (625-638). A mosaic in the apse of the church shows the young saint as a Byzantine empress, amid flames with a sword at her feet.
Another perhaps more famous church, Sant'Agnese in Agone, faces the Piazza Navona in Rome. Originally a 9th century oratory built over the the site of her martyrdom, a brothel in the arcades of the Circus of Domitian, also known as the Circus Agonalis, it was consecrated as a church by Pope Calixtus II on January 28, 1123. The present church was extensively remodeled in the 17th century by Rainaldi, according to plans by Borromini, and was influential in Baroque architecture. The Roman ruins of the brothel where Agnes was martyred are accessible from inside the church.
Since the early middle-ages, Saint Agnes is usually depicted holding a lamb (agnus – a pun on her name) as a symbol of her purity. At least since the 9th Century, each year on the Feast of Saint Agnes, two lambs are solemnly blessed at the church of Sant'Agnese fuori le Mura. From the wool of these lambs are made the pallium (a strip of white wool with black crosses woven into the fabric) given by the Pope to an archbishop as a sign of office.
Propers for the Feast of Saint Agnes
Collect:

Almighty, eternal God,
You choose what the world considers weak
to put the worldly power to shame.
May we who celebrate the birth of Saint Agnes into eternal joy
be loyal to the faith she professed.
Grant this through our Lord Jesus Christ, Your Son,
who lives and reigns with You and the Holy Spirit,
one God, for ever and ever. +Amen.
First Reading: 1 Corinthians 1:26-31

For since, in the wisdom of God, the world did not know God through wisdom, it pleased God through the folly of what we preach to save those who believe. For Jews demand signs and Greeks seek wisdom, but we preach Christ crucified, a stumbling block to Jews and folly to Gentiles, but to those who are called, both Jews and Greeks, Christ the power of God and the wisdom of God. For the foolishness of God is wiser than men, and the weakness of God is stronger than men.
For consider your call, brethren; not many of you were wise according to worldly standards, not many were powerful, not many were of noble birth; but God chose what is foolish in the world to shame the wise, God chose what is weak in the world to shame the strong, God chose what is low and despised in the world, even things that are not, to bring to nothing things that are, so that no human being might boast in the presence of God. He is the source of your life in Christ Jesus, whom God made our wisdom, our righteousness and sanctification and redemption; therefore, as it is written, "Let him who boasts, boast of the Lord."
Gospel Reading: Matthew 13:44-46

"The kingdom of heaven is like treasure hidden in a field, which a man found and covered up; then in his joy he goes and sells all that he has and buys that field.
"Again, the kingdom of heaven is like a merchant in search of fine pearls, who, on finding one pearl of great value, went and sold all that he had and bought it.
---
Catholic Culture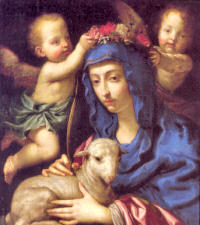 Daily Readings for:January 21, 2011
(Readings on USCCB website) Collect: Almighty, eternal God, you chose what the world considers weak to put the worldly power to shame. May we who celebrate the birth of St. Agnes into eternal joy be loyal to the faith she professed. Grant this through our Lord Jesus Christ, your Son, who lives and reigns with you and the Holy Spirit, one God, for ever and ever. Amen.RECIPES
ACTIVITIES
PRAYERS

21st
  Memorial of St. Agnes, virgin and martyr Old Calendar: St. Agnes
St. Agnes (c. 304) like St. Cecilia, is to be numbered among the most famous martyrs of Rome. When the Diocletian persecution was at its height, and when priests as well as laymen were apostatizing from the faith, Agnes, a girl of twelve, freely chose to die for Christ. When she was commanded to offer incense to false gods, she raised her hand to Christ and made the Sign of the Cross. When the heathens threatened to bind her hand and foot, she herself hastened to the place of torture as a bride to her wedding feast. Pain had no terror for her—although the fetters slipped from her small hands while even the pagan bystanders were moved to tears.
When the son of the Roman prefect offered to marry her, she replied: "The one to whom I am betrothed is Christ Whom the angels serve." When the executioner, who was to behead her, hesitated, she encouraged him with the words: "Strike, without fear, for the bride does her Spouse an injury if she makes Him wait". The name of "Agnes" means "lamb-life," and hence the lamb is the symbol of the modesty and innocence of the virgin-martyr.
The Week of Prayer for Christian Unity
---
St. Agnes
Agnes is one of the most glorious saints in the calendar of the Roman Church. The greatest Church Fathers vie with one another in sounding her praise and glory. St. Jerome writes: "All nations, especially their Christian communities, praise in word and writing the life of St. Agnes. She triumphed over her tender age as well as over the merciless tyrant. To the crown of spotless innocence she added the glory of martyrdom."
Our saint's name should be traced to the Greek hagne – the pure, rather than to the Latin agna – lamb. But the Latin derivation prevailed in the early Church. The reason may have been that eight days after her death Agnes appeared to her parents with a train of virgins, and a lamb at her side. St. Augustine knew both derivations. "Agnes", he writes, "means 'lamb' in Latin, but in Greek it denotes 'the pure one'". The Latin interpretation occasioned the yearly blessing of the St. Agnes lambs; it takes place on this day in the Church of which she is patron, and the wool is used in weaving the palliums worn by archbishops and, through privilege, by some bishops. In the church built by the Emperor Constantine over the saint's grave, Pope Gregory the Great preached a number of homilies. Reliable details concerning the life of St. Agnes are very few. The oldest material occurs in St. Ambrose's De Virginibus, parts of which are read today at Matins. The value of the later (definitely unauthentic) "Passion" of the saint is enhanced by the fact that various antiphons and responsories in the Office are derived from it.
From such liturgical sources we may construct the following "life of St. Agnes". One day when Agnes, then thirteen years old, was returning home from school, she happened to meet Symphronius, a son of the city prefect. At once he became passionately attracted to her and tried to win her by precious gifts. Agnes repelled him, saying: "Away from me, food of death, for I have already found another lover" (r. Ant.). "With His ring my Lord Jesus Christ has betrothed me, and He has adorned me with the bridal crown" (3. Ant., Lauds). "My right hand and my neck He has encircled with precious stones, and has given me earrings with priceless pearls; He has decked me with lovely, glittering gems" (2. Ant.). "The Lord has clothed me with a robe of gold, He has adorned me with priceless jewels" (4. Ant.). "Honey and milk have I received from His mouth, and His blood has reddened my cheeks" (5. Ant.). "I love Christ, into whose chamber I shall enter, whose Mother is a virgin, whose Father knows not woman, whose music and melody are sweet to my ears. When I love Him, I remain chaste; when I touch Him, I remain pure; when I possess Him, I remain a virgin" (2. Resp.). "I am betrothed to Him whom the angels serve, whose beauty the sun and moon admire" (9. Ant.). "For Him alone I keep my troth, to Him I surrender with all my heart" (6. Ant.).Incensed by her rebuff, Symphronius denounced Agnes to his father, the city prefect. When he threatened her with commitment to a house of ill fame, Agnes replied: "At my side I have a protector of my body, an angel of the Lord" (2. Ant., Lauds). "When Agnes entered the house of shame, she found an angel of the Lord ready to protect her" (1. Ant., Lauds). A light enveloped her and blinded all who tried to approach. Then another judge condemned her to the stake because the pagan priests accused her of sorcery. Surrounded by flames she prayed with outstretched arms: "I beseech You, Father almighty, most worthy of awe and adoration. Through Your most holy Son I escaped the threats of the impious tyrant and passed through Satan's filth with feet unsullied. Behold, I now come to You, whom I have loved, whom I have sought, whom I have always desired." She gave thanks as follows: "O You, the almighty One, who must be adored, worshipped, feared – I praise You because through Your only begotten Son I have escaped the threats of wicked men and have walked through the filth of sin with feet unsullied. I extol You with my lips, and I desire You with all my heart and strength."After the flames died out, she continued: "I praise You, Father of my Lord Jesus Christ, because by Your Son the fire around me was extinguished" (4. Ant., Lauds). And now she longed for union with Christ: "Behold, what I yearned for, I already see; what I hoped for, I already hold in embrace; with Him I am united in heaven whom on earth I loved with all my heart" (Ben. Ant.). Her wish was granted; the judge ordered her beheaded. —The Church's Year of Grace, Pius ParschPatron: Affianced couples; betrothed couples; bodily purity; chastity; Children of Mary; Colegio Capranica of Rome; crops; engaged couples; gardeners; Girl Scouts; girls; rape victims; diocese of Rockville Centre, New York; virgins.Symbols: Lamb; woman with long hair and a lamb, sometimes with a sword at her throat; woman with a dove which holds a ring in its beak; woman with a lamb at her side.Things to Do:

Read St. Ambrose's De Virginibus about the martyrdom of St. Agnes. "It is the birthday of a martyr, let us offer the victim. It is the birthday of St. Agnes, let men admire, let children take courage, let the married be astounded, let the unmarried take an example."

---

The Week of Prayer for Christian UnityToday's Biblical Reflection is Sharing, an Expression of Our Unity.The sign of continuity with the apostolic Church of Jerusalem is "devotion to the apostles' teaching and fellowship, to the breaking of the bread and the prayers." The Church of Jerusalem today, however, recalls to us the practical consequences of such devotion – sharing. The Acts of the Apostles states simply that "All who believed were together and had all things in common; they would sell their possessions and goods and distribute to all, as any had need" (Acts 2.44-45).PrayerGod of Justice, your giving is without bounds. We thank you that you have given what we need, so that all may be fed, clothed and housed. Guard us from the selfish sin of hoarding, and inspire us to be instruments of love, sharing all that you give us, as a witness to your generosity and justice. As followers of Christ, lead us to act together in places of want: where families are driven from their homes, where the vulnerable suffer at the hands of the powerful, where poverty and unemployment destroy lives. We pray in the name of Jesus, in the unity of the Holy Spirit. Amen.Vatican Resources

---

Secret Harbor ~ Portus Secretioris

21 January 2011

Persevere Unto the End

 

Today is the feast of Saint Agnes, virgin and martyr. Among the treasures the Carthusians sometimes reflect on for this feast is an excerpt from Saint Augustine's "De Virginitate." Here is that reflection.

The whole Church itself is a virgin espoused unto one Husband, Christ, as Saint Paul says, of how great honor are its members worthy, who guard this even in the flesh itself, which the whole Church guards in the faith? Imitating the mother of her husband, and her Lord, for the Church also is both a mother and a virgin. For whose virgin purity do we consult, if she is not a virgin? Or whose children do we address, if she is not a mother? Mary bore the Head of this Body after the flesh; the Church bears the members of that Body after the Spirit. In both, virginity does not hinder fruitfulness: in both, fruitfulness does not take virginity. Whereas the whole Church is holy both in body and spirit, and yet the whole is not virgin in body but in spirit; how much more holy is it in these members, wherein it is virgin both in body and spirit?Go on, Saints of God, boys and girls, males and females, unmarried men and women; go on and persevere unto the end. Praise more sweetly the Lord, Whom you think on more richly: hope more happily in Him, Whom you serve more instantly: love Him more ardently, Whom you please more attentively. With loins girded, and lamps burning, wait for the Lord, when He comes from the marriage. You shall bring unto the marriage of the Lamb a new song, which you shall sing on your harps. Not surely such as the whole earth sings, unto which it is said: Sing unto the Lord a new song; sing unto the Lord, the whole earth; but such as no one shall be able to utter but you. For there you have seen in the book of Revelation a certain one beloved above others by the Lamb, who desired to lie on His Breast, and who used to drink in, and burst forth, the Word of God above the wonders of heaven.Wherefore, do this, virgins of God: follow the Lamb, wherever He goes. But first come to Him, Whom you are to follow, and learn, for He is meek and humble of Heart. Come in you lowly wise unto the Lowly, if you love, depart not from Him, lest you fall. For whosoever fears to depart from Him asks and says: Let the foot of pride not come to me. Go on in the way of loftiness with the foot of lowliness; He Himself lifts up those who follow Him in humility, Who thought it not a burden to come down to us in humility. The Lord protects you from committing evil when you hide in the shelter of His protection. Consider the sins you have avoided as possible only by His grace: otherwise you may fool yourself about your justice and begin to act like a Pharisee, without love, full of pride and with ruinous boasting despising the sinners who are humbly beating their breasts.Beware of concealing that strength of yours which has been tried, so that you may not be puffed up, because you have been able to bear something: but be concerned and pray about that which has not been tried, that you will not be tempted above that which you are able to bear. Believe in secret that some are superior to you, than whom you are openly better. When the good things of others, perhaps unknown to you, are kindly believed by you, your own that are known to you are not lessened by comparison, but strengthened by love: and perhaps as yet are wanting, are by so much the more easily given, by how much they are the more humbly desired.Let those among your number who persevere be for you an example: but let those who fall increase your fear. Love the virtues and walk on those tracks; mourn over defections, that you be not puffed up. Do not establish your own righteousness; submit yourselves unto God Who justifies you. Pardon the sins of others, pray for your own pardon: future sins shun by vigilance, past sins blot out by confessing. Thus, free from any defect, even the most minor defects, adapt your life to the profession of virginity.When virgins are adorned with virtues, their lives appear angelic in the eyes of men, their habits resemble those of heaven, their face never shows anger, their eyes are not wandering, their tongues are not unbridled, no petulant laugh, and are dressed modestly. They do not render evil for evil, nor insult for insult, and lastly, they fulfill that love which lays down their life for their brethren. Already you are as such, because that is what you ought to be. But, the measure of your greatness, whosoever of you are so great, is determined by much humbling of yourselves in all things, that you may find grace before God, that He does not resist you because of pride, that He doesn't humble you because you lifted yourself up, that He doesn't lead you through straits as being puffed up: although anxiety being unnecessary, because, where Charity glows, humility is not wanting.Because you have renounced marriage, paternity or maternity, love Him with your whole heart, Who is the fairest among the sons of men. You can devote yourself to Him fully since you are free from the bonds of marriage. Gaze on the Beauty of your Lover: think of Him equal to the Father, made subject also to His Mother: ruling even in the heavens, and serving upon the earth: creating all things, created among all things. That very thing, which in Him the proud mock at, gaze on, how fair it is: with inward eyes gaze on the Wounds of Him hanging, the scars of Him rising again, the Blood of Him dying, the price of him that believes, the gain of Him that redeems. Consider of how great value these are, weigh them in the scales of Charity; and whatever love you could have expended in your marriage, give back to Him.There is One Who gave you the power to become children of God, O Christian soul, Who seeks your inner beauty, and not a glittery content, but fair conduct. He is not One unto Whom anyone can lie concerning you, and make Him rage through jealousy. See with how great security you love Him, Whom you fear not to offend by false suspicions. Husband and wife love each other, in that they see each other: and what they do not see, they fear between themselves: nor have they sure delight in what is visible, while in what is concealed they usually suspect what is not. You in Him, Whom you see not with the eyes, and behold by faith, neither have what is real to blame, nor fear lest perhaps you offend Him by what is false. If therefore you should owe great love to husbands, Him, for Whose sake you would not have husbands, how greatly ought you to love? Let Him be fixed in your whole heart, Who for you was fixed on the Cross.