Religious Freedom Week
As we celebrate the First Amendment, we must safeguard our fundamental freedom
There are churches in every town across America, chaplains are on staff in Congress and the military, and the dollar bill in your pocket proclaims, "In God We Trust." With these and other marks of religion all around, you may wonder why the Catholic Church in America annually observes Religious Freedom Week (from June 22-29 this year).
The sad fact is, we've seen a growing hostility to religion and its role in our politics and public life. Among numerous cases, Christian bakers have been sued for declining to use their creative talents for same-sex weddings and gender-transition parties, and nurses have faced discipline and dismissal for refusing to assist in abortions.
And recently, U.S. senators have harshly questioned public servants about their Catholic faith and membership in the Knights of Columbus.
In early June, during a Senate hearing for a nominee to the federal court, Ben Sasse of Nebraska defended the Knights by humorously calling attention to judicial nominees being grilled about their membership in the K of C.
Sasse asked Peter J. Phipps, a member of the Knights: "Are you now or have you ever been involved in the organization of a fish fry?" (The wording was reminiscent of McCarthy-era hearings when government officials were questioned about affiliation with the Communist Party.)
Sasse's intervention, which you can watch here, brought attention to the veiled anti-Catholicism of some senators. These politicians see the Catholic faith as "extreme" because it upholds the teachings of Jesus Christ on marriage and the sanctity of human life.
Defending the good works and reputation of the Knights of Columbus, Sasse outlined a number of facts:
The Knights of Columbus is the largest Catholic fraternal service organization in the world.

In 2017 Knights contributed more than $185 million to charitable organizations and activities, and logged more than 75.6 million hours in volunteer service.

The Knights have a proud tradition of standing against the forces of prejudice and oppression such as the Ku Klux Klan.
Back in January 2019, Sasse introduced a Senate resolution, approved by unanimous consent, that "disqualifying a nominee to federal office on the basis of membership in the Knights of Columbus" violates that anti-religious test clause of the U.S. Constitution.
As we consider current threats to religious freedom, we should remember that the Knights of Columbus was established at a time of great anti-Catholic sentiment in America. Father Michael McGivney founded our Order in 1882 to provide a safe haven for Catholic men to grow in charity, unity and fraternity toward one another and their neighbors, and to help families cope with the death of a breadwinner. Our Order continues its vigorous defense of religious freedom in many ways in the United States and around the world.
For more information on Religious Freedom Week and threats to the First Amendment, visit the United States Conference of Catholic Bishops.
Action Points
Here are some suggested steps you can take to support religious liberty:
Sign up for action alerts at the USCCB Action Center and find out how you can engage government officials and advocate for religious liberty!

Call your members of Congress. The U.S. Capitol switchboard number is 202-224-3121, or call your Representative's and Senators' local offices. Additional contact info can be found at house.gov, and www.senate.gov.

To stay up-to-date on current religious freedom issues, sign up for text messages from the USCCB. Just text the word "FREEDOM" to 84576.

---
---
---
Religious Freedom Week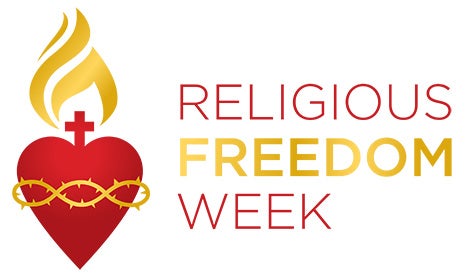 Religious Freedom Week 2019: Strength in Hope
In the pilgrimage of this life, hidden with Christ in God and free from enslavement to wealth, they aspire to those riches which remain forever and generously dedicate themselves wholly to the advancement of the kingdom of God and to the reform and improvement of the temporal order in a Christian spirit. Among the trials of this life they find strength in hope, convinced that "the sufferings of the present time are not worthy to be compared with the glory to come that will be revealed in us" (Rom. 8:18).
–Apostolicam actuositatem, 4
Join us, June 22 – June 29, as we pray, reflect, and take action on religious liberty, both here in this country and abroad.
---